In July 2023, the Croatian Hydrocarbon Agency applied for a Clean Hydrogen Partnership call for Technical Assistance to regional and national Managing Authorities to generate Synergies with the Clean Hydrogen Partnership.
Regional and national Managing Authorities from the EU-27 and Horizon Europe associated countries had the opportunity to apply for Technical Assistance with the aim of developing cooperation in key areas of hydrogen development. A total of 21 applications were received from 15 different countries and 10 authorities were selected based on their expertise, geographical diversity (at least half of the authorities from 5 different EU-13 countries), and the limit to one Managing Authority per country.
The results were published and 10 Authorities were selected, including the Croatian Hydrocarbon Agency.
Cooperation Agreements will be signed with the selected Authorities. The Cooperation Agreements will be structured differently per authority, allowing the implemented synergies to be tailored to each beneficiary's needs and context.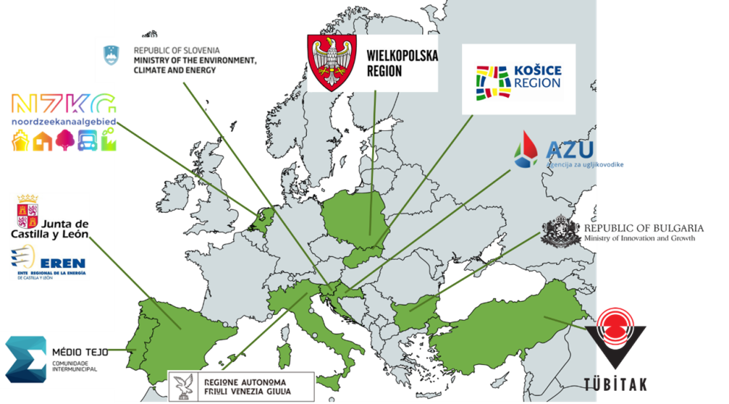 The Authorities selected to receive targeted technical support to develop synergies with the Clean Hydrogen Partnership are the following:
•    Programme Office North Sea Canal Area (Netherlands)
•    Wielkopolska Region (Poland)
•    Friuli Venezia Giulia Region (Italy)
•    Kosice Region (Slovakia)
•    Intermunicipal Community of Medio Tejo (Portugal)
•    Regional Public Body of Energy – Castilla y Leon (Spain)
•    Scientific and Technological Research Council of Türkiye (Türkiye)
•    Slovenian Ministry of the Environment, Climate and Energy (Slovenia)
•    Croatian Hydrocarbon Agency (Croatia)
•    Bulgarian Ministry of Innovation and Growth (Bulgaria)
Among the selected authorities, 6 are regional and 4 are national actors, while 5 out of 10 originate from EU-13 and 1 from a Horizon Europe-associated country, showcasing the Partnership's multi-level approach to hydrogen development.
This step is an important contribution to the further development of clean hydrogen in Europe and to strengthening cooperation between the relevant authorities in the different countries. The Croatian Hydrocarbon Agency, together with other selected Authorities, has the opportunity to benefit from technical support, knowledge management and funding to advance its research and innovation activities in the hydrogen sector.