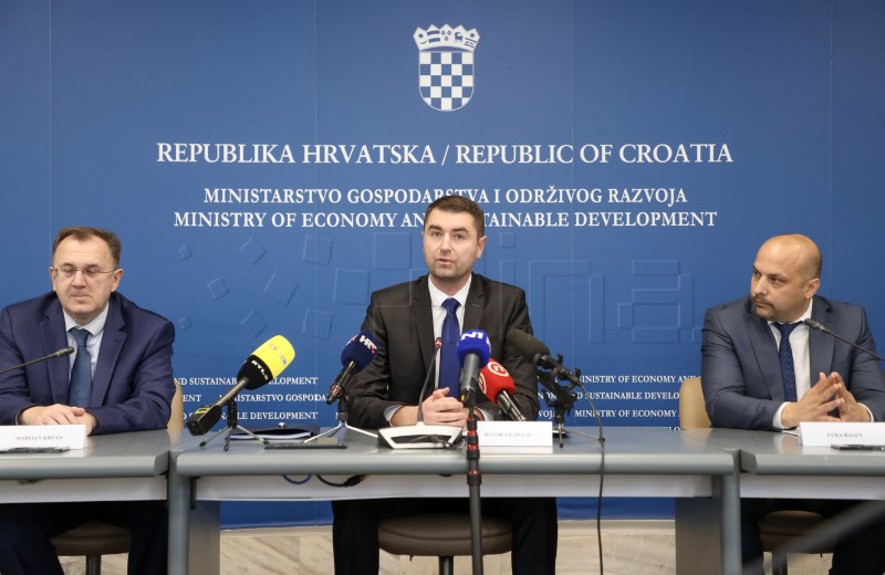 Today, at the premises of the Ministry of Economy and Sustainable Development, the ceremonial signing of the grant agreement for the amount of 29,828,555.70 euros for the financing of the project "Preparation and exploration of geothermal potential in the context of central heating" through measure C1.2 took place. R1-12 Incentives for energy efficiency, heating and renewable energy sources for the decarbonisation of the energy sector.
The signing ceremony was attended by the Minister of Economy and Sustainable Development Davor Filipović, the President of the Management Board of the Croatian Hydrocarbon Marijan Krpan and the Director of the Fund for Environmental Protection and Energy Efficiency Luka Balen.
According to the Act on the Exploration and Production of Hydrocarbons, the Croatian Hydrocarbon Agency is authorised to conduct preliminary studies to investigate the geothermal potential on the territory of the Republic of Croatia.
The project started in December 2021 and six sites with suspected geothermal potential in cities with existing central heating systems were selected. In this way, the project will be carried out in the area of: Zaprešić, Sisak, Velika Gorica, Osijek, Vinkovci and Vukovar. At the beginning of this year, geophysical surveys - 2D seismic and magnetotelluric - were carried out in all the mentioned areas. Based on the data obtained, two areas will be selected for geothermal drilling. There will be detailed documentation of the geothermal potential with possible locations for future drilling in the four research areas, which would remove much of the research risk.
This will help the local community in implementing geothermal water projects. The investment made will ensure better use of the energy generated and the commercialisation of the use of thermal energy from renewable sources.