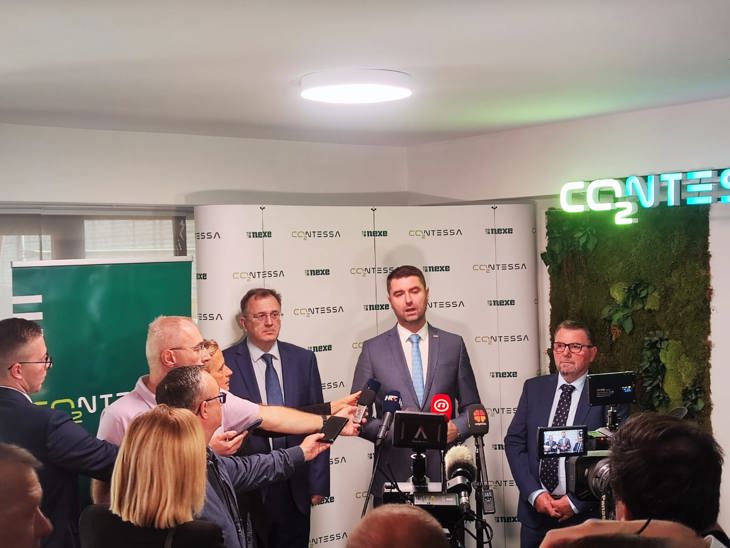 A working meeting was held in Našice, attended by the Minister of Economy and Sustainable Development Davor Filipović, the President of the Management Board of the Croatian Hydrocarbon Agency Marijan Krpan, the Ambassador of the Federal Republic of Germany Dr. Christian Hellbach, the Prefect of Osijek-Baranja County Ivan Anušić, the Mayor of Našice Krešimir Kašuba , president of the Board of Plinacro Ivica Arar, the Dean of the Faculty of Mining, Geology and Petroleum Engineering Vladislav Brkić, president of the Board of NEXE d.d. Ivan Ergović and other partners of NEXE d.d. in the CO₂NTESSA project participated.
The topic of the meeting was updated information on the CO₂NTESSA project, but also on other NEXE Group projects focusing on decarbonisation, green transition and energy transition in the economy.
Research conducted by the Croatian Hydrocarbon Agency has shown that Croatia has great potential for permanent storage of CO2 in geological structures in the north of Croatia. In addition to depleted oil and gas reservoirs, there is also the possibility of disposal in deep saline aquifers.Taking into account the results of the study, the proximity of the state border with Hungary and the proximity of greenhouse gas emitters, the Bockovac site (Osijek-Baranja County) was selected for the project of permanent storage of carbon dioxide in a geothermal reservoir.
The CO₂NTESSA project, with an estimated value of €400 million, represents one of the largest planned investments in industry in Croatia.
The aim of the project is to combine all these aspects of decarbonisation and create a healthier environment, a more competitive economy and a safer life for the people in the area.
Read more: https://mingor.gov.hr/vijesti/projekt-nexe-grupe-co-ntessa-uvrsten-na-listu-strateskih-investicishnija-projekata-rh/9442